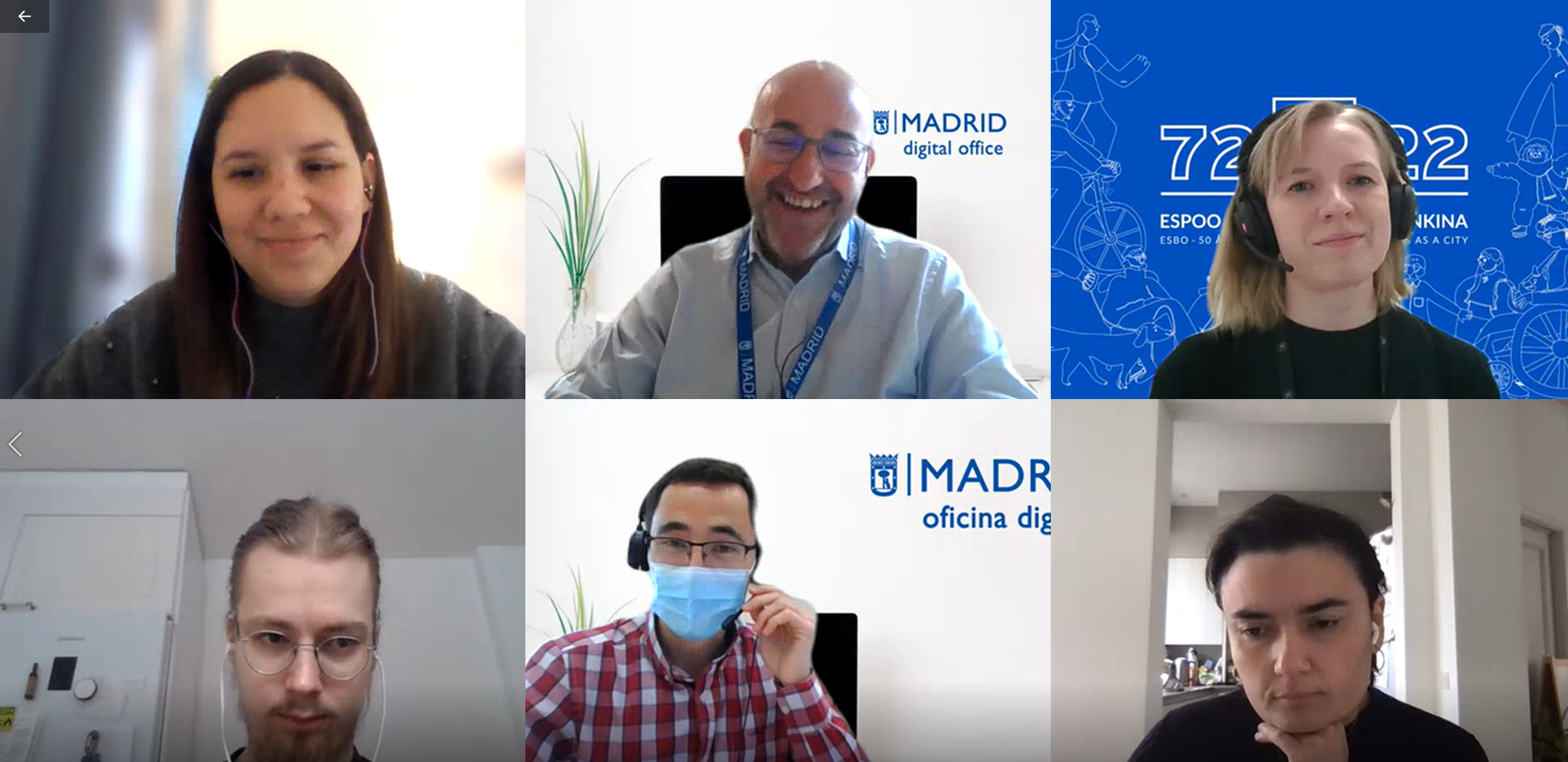 On 29 March, the UserCentriCities community gathered for the sixth edition of the UserCentriCafé meeting series. The Café is an opportunity for cities and regions to meet informally and discuss their latest developments around user-centricity.
On this occasion, Antonio García de la Paz, secretary-general for data strategy and Javier Lucas Rodríguez, head of the data coordination and monitoring department at Madrid City Hall, presented three user-centric services the municipality has implemented, ranging from aiding the elderly citizens on their daily tasks to a smart mobility application.
Madrid Te Acompaña (Madrid is with you) is a public-private social collaboration specifically designed for over 65 years old population cohorts registered in the city. The objective is to offer them support in carrying out daily activities such as shopping for groceries, medical appointments, going on walks, and many more. According to a criteria search, the mobile application matches citizens requesting support with neighbouring volunteers registered in the city's volunteer system.
Developed fully in-house by Microsoft for the Madrid municipality and designed according to plain concepts, the service went live on December 2021 and is currently undergoing a stabilisation and improvement phase, to which new functionalities continue to be added. Since two months of the first launch, the application received 3,400 registrations and numbers continue to rise. The most demanded services are walks and medical appointments, accounting for 70% and 17%, respectively.
The flagship Madrid Mobile Application offers all administrative procedures in one single platform. From scheduling an appointment with Madrid city hall or booking sports venues, to a direct line to citizen services and social media institutional accounts. Thanks to the geo-localisation feature, the application offers the possibility of consulting all information related to the city hall's services. The application was newly re-launched in 2021, including further services available. In one year, it was downloaded to 220,000 devices. The application also allows reporting warnings and incidents taking place around the city. Over 100,000 incidents were reported in 2021, making it the second most used communication channel with the city council after the phone.
Finally, Madrid Mobility 360 was developed as part of Madrid's mobility strategy by the municipal transport company (EMT). The application offers a unique fully functional MaaS solution including booking, unlocking and payments for the city's mobility services, such as buses, trains, metro, bicycles, taxis and scooters. The Madrid Mobility 360 route planner, the first tool of its kind, provides users details on bus occupancy, both while calculating a route and while waiting at the bus stop. Thanks to this one-of-a-kind application, users can take conscious mobility decisions, positioning Madrid at the forefront of digital mobility in the European landscape.
In their own words, Mr García de la Paz and Mr Lucas Rodríguez, stress the need to promote now more than ever the use of sustainable mobility while offering a smart mobility experience, that is, one that is both digital and innovative, enabling the user with more efficient alternatives and smoother journeys.
All three services presented by Madrid municipality are submitted in the User-Centric Services Repository and are competing for the 2022 UserCentriCities Awards.
To know more about the UserCentriCities community and how to join, please contact mayra.garcia-blasquez@eurocities.eu.
Mayra
García-Blásquez Lahud
8 April 2022