Bringing together leading European cities and regions, policymakers and thought leaders in user-centric local public administration, the UserCentriCities network convened The 2022 UserCentriCities Award Ceremony in Espoo, Finland to deliver the prize for the best user-centric service in Europe.
Mikko Rusama, chief digital officer of the city of Helsinki accepted the award for the pre-primary education allocation service developed by the city and delivered proactively to parents by sms. 
Says Mikko Rusama: "We are delighted that the proactive pre-primary education placement service in Helsinki has been named the best user-centric service in Europe by UserCentriCities. City of Helsinki believes in a paradigm shift: transforming from a reactive to a proactive city. Rather than filling any forms, the city sent a text message to busy parents and offered a pre-primary education placement in a nearby pre-school for their kids. By replying to the text message, parents could confirm the placement. We are delighted to share our experiences in designing proactive and user-centric services with other cities through the UserCentriCities Network."
Todd Asher, deputy principal at Bloomberg Associates, and Päivi Sutinen, director for city as a service in Espoo, delivered the keynotes. Arūnė Urtė Matelytė, co-founder and head of GovTech Lab in Lithuania, and Anthony Zacharzewski, president of the Democratic Society, presented the winner with the prize. 
Ritva Nyberg, director of library services at the city of Espoo, presented Helmet.fi, a joint e-library service provided by the city libraries of Espoo, Helsinki, Kauniainen and Vantaa and Sharaifa Mik, digital services project manager at the City of Rotterdam presented MijnRotterdam.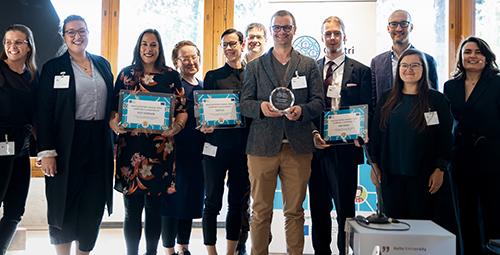 Selected by a high-level jury, the three finalist services form part of the User-Centric Services Repository, a unique online inventory of user-centric services in local administrations.
The winning service tackles one of the most complicated processes a parent has to go through with a very simple solution: a text message. Parents receive a text message offering allocation in a nearby pre-school and can accept the proposal by responding to the SMS. Compared to an app, this solution takes into account different digital literacy levels and connection accessibility. It also is extremely simple to replicate.
By removing the need to fill in forms, make calls to pre-primary education providers and process applications, the city is making life and work easier for parents and day-care centre directors alike. A child's application is confirmed in minutes rather than weeks.
The offer is a proposal, which means parents are under no obligation to accept it, and they can choose a different option. However, not many seem to prefer this route. Since 2021 the service can be used anywhere in Helsinki, and in January of that year, 5,591 families received text messages suggesting pre-primary education places for their children. Nine out of ten families accepted the offer.
Helsinki's strategy for the future is to anticipate the needs of its citizens by betting on proactively and automatic services with personalised suggestions. The pre-primary education allocation service will soon be transformed into an app where parents can plan their children's whole education journey.
Do you want to know more about the digital public services other cities and regions offer? Visit the User-Centric Services Repository and get inspired for the second edition of the award coming in 2023 and stay tuned for the call for submissions. In the meantime, congratulations Helsinki!
For more information about UserCentriCities and how to join, please contact mayra.garcia-blasquez@eurocities.eu
Mayra
García-Blásquez Lahud
8 June 2022